The Iconic Cordice house
This is one of my most treasured photos. I am sharing it to show the younger viewers how the area once looked. The sand and debris at the bottom of the photo came from the sea. When it was really rough the sea would reach to the edge of the park.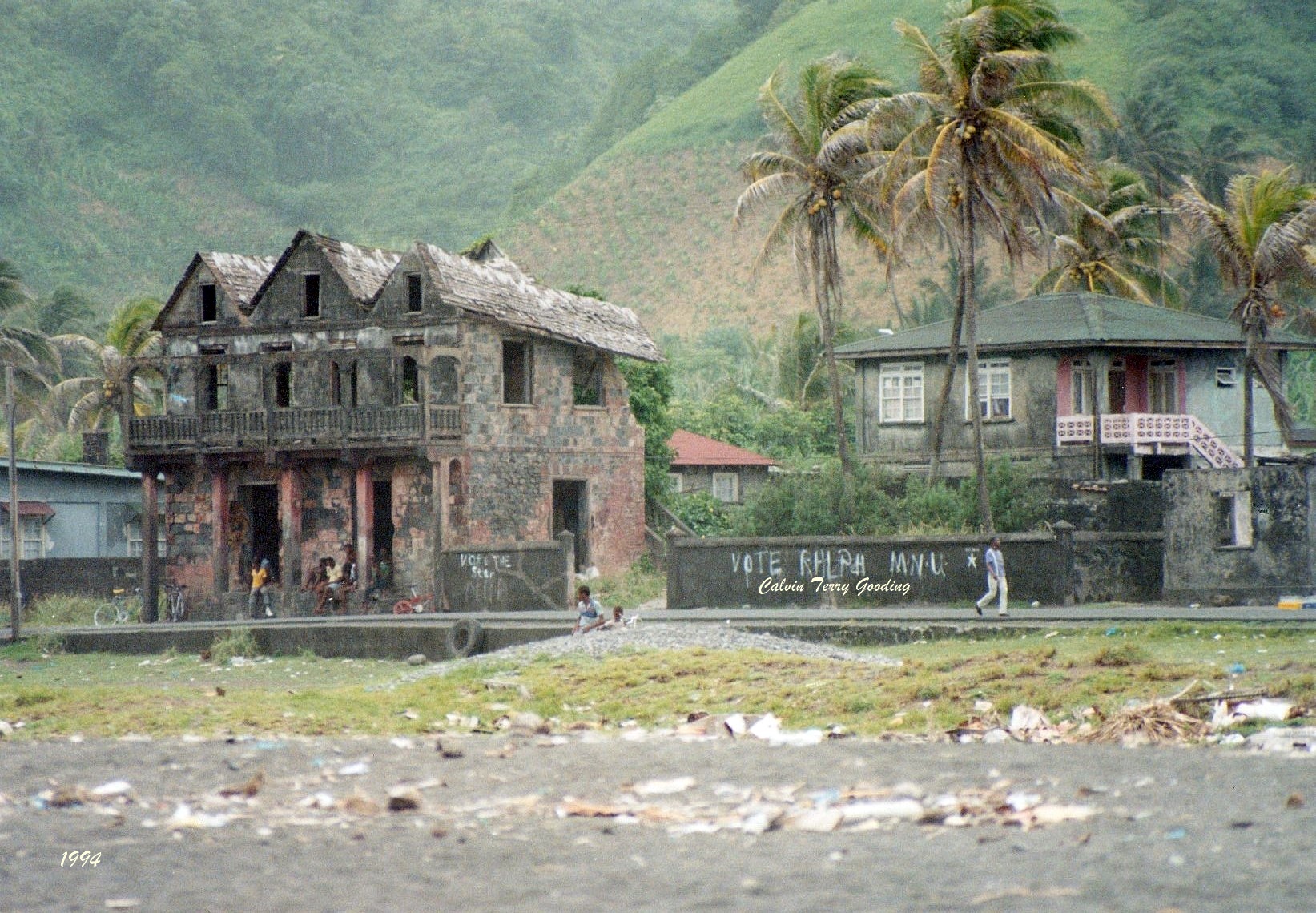 It probably still does.
My opinion on this building is that it was built as a pavilion for the newly opened Coronation Park in the 1920s. I have no proof of this, I am just basing it on its design and what it looked like inside when I played there as a boy.
In fact it was often used for this purpose when visiting cricket teams came to play in Georgetown during the 1960s. If anyone can add to this please do tell.
Responses from followers of the Georgetown SVG revisited Facebook page
Allison Toney: The sea only got that far in a hurricane
Allison Toney: Memories lots of it, that was liming/chilling block. As a child I had access to the house. Agnes Cordice was my Godmother, my family were friends .When the family moved to Villa, Doctor Cordice would eat at our home when ever he came to Georgetown to visit or play cricket. Famous Frankie and Tony Macintosh used to spend vacations the

Kaleen Clouden: I think the house in the back belong to my aunt Darkie Small.
Georgetown, SVG Revisited: Yes it does Kaleen, I used to live to the right of it.
Jacqueline Trancoso: The house with the green roof is my Grandfather house his name is the late John Smith's, my sister still live there.
Hyacinth Isaac: What I remember most about this park, was the Jimmy Swaggart crusade in the 70's, and the soccer games that once played there.
Georgetown, SVG Revisited: Simon, I think that is your relatives house to the left of Cordice house
Simon Glasgow: You are correct my uncle's house. I've been visiting home every year since my mom haven't doing too well and I sure that the park is not there.
Georgetown, SVG Revisited: The park is still there but not fit for use. The new park is in Chili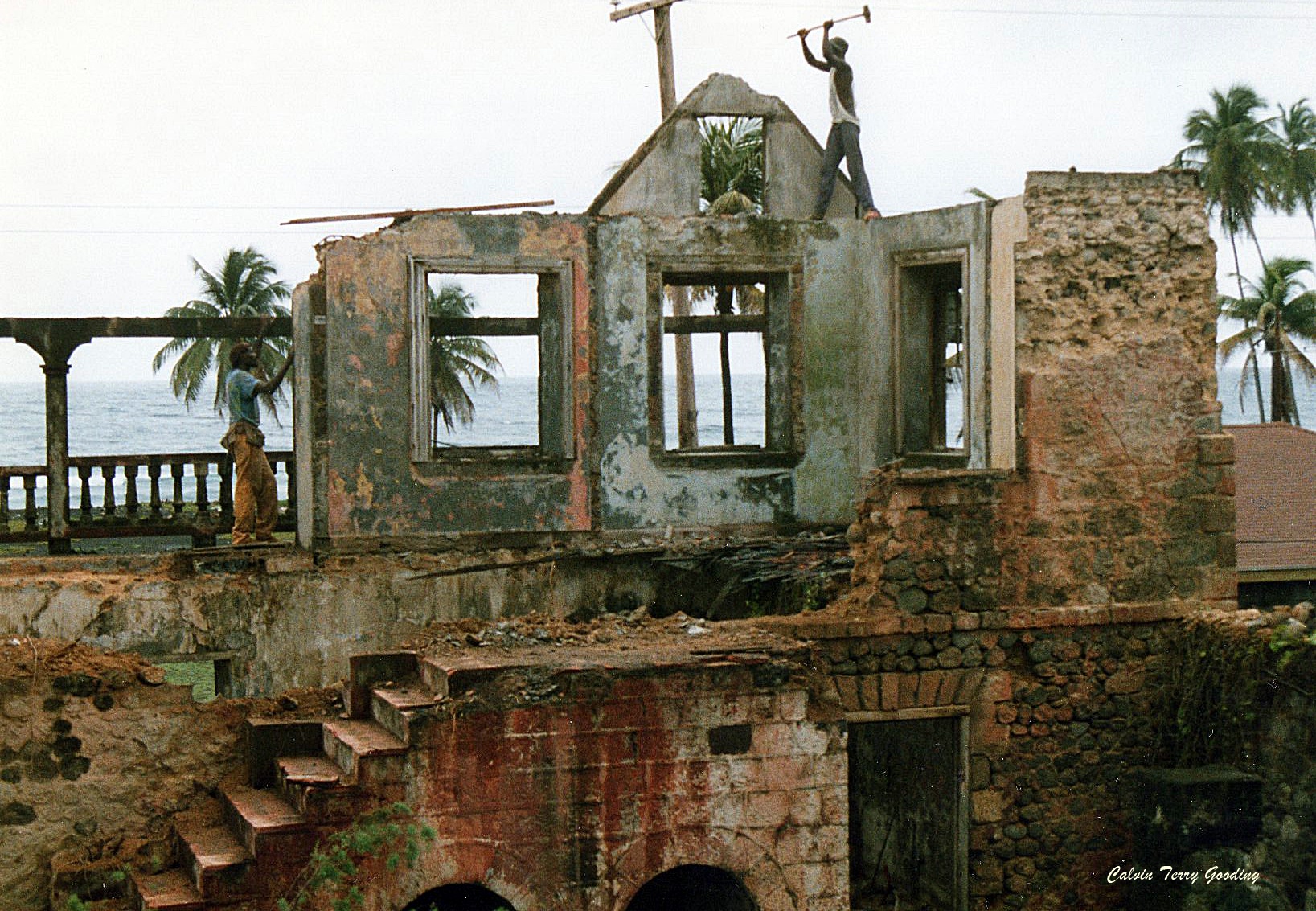 Nya Yvonne Hadley: That was our Sunday afternoon hang out spot ! Missed that place!
Matgriet Telfer: I still remember this place.Georgetown, Bay Road and Dickson is where I use to go and spend my hollidays. Please post more,
Celina Cordice Primus: The scenery is beautiful and reminiscent of a once vibrant Georgetown.
Yvonne Roberts: I remember that house as a little girl going by my aunt and passing that house
Jannin Phillip: I grow up not too far from there, use to hear all the noise from the park on Sundays, especially when a football game was on
Basil Bashment Dasilva: I remember this place. I love Georgetown so much.
Denise Allison ThompsonYearwood: Please post more I love to learn the history of Georgetown
Claire Shepperd: Thank you!
Kaleen Clouden: Take me back Please
Shelly King: Home.
The Hazardous Jackson Old House in Chili
Residence living next to this 1912 building at Jackson corner, Chili, are concerned that it might collapse at any time due to the large crack running down the side. I sincerely hope that this is addressed before the inevitable occur..
Antonia Sutton: It's a hazard indeed.
Melani Huggins: I have to pass this everyday, I've been saying this for years.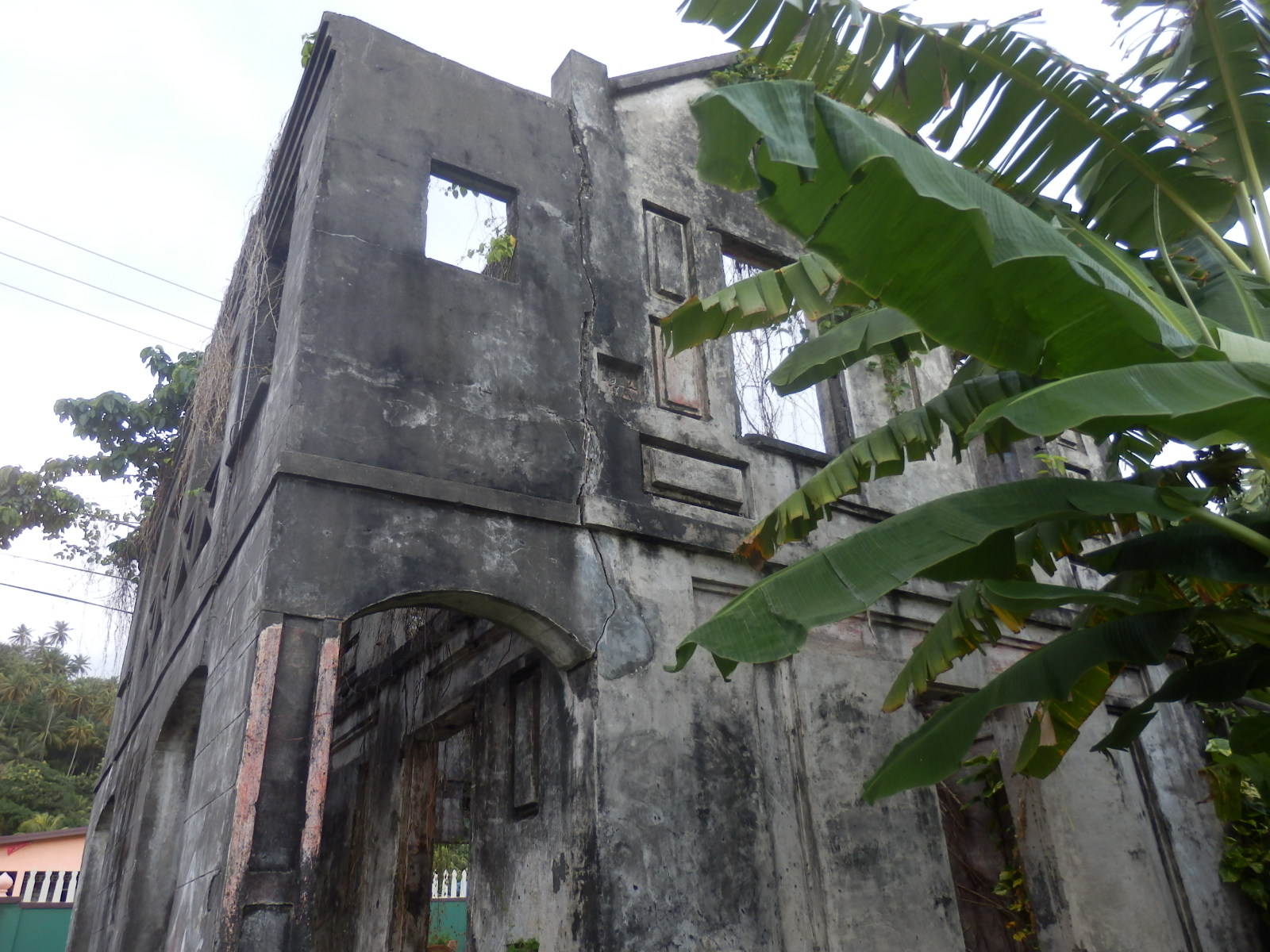 Joann Do Silva Baksh: I am sure when the councilor for the area passes by he can see that this place has now become a health hazard. It should be demolished before someone gets seriously hurt.
Georgetownsvgrevisited: This is a very debatable topic. Does anyone know if this hazard has been reported to the relevant persons.
August Gem: Way too much old building in Georgetown.
Joann Do Silva Baksh: I think this building is close to my Grandparents Albert and Vera Da Silva house.
Joann Do Silva Baksh: My dad Ken Da Silva used to play under that house when he was a child.
Earl Bailey: I think that house should be restored, that house has Historic Significance! It should be respected as a land mark. I believe much could be learned from this dilapidated structure. Wake up Archivists!!!
Brian Dasilva: Earl,I'm with you in that,we should start to restore a lot of our buildings in S.V.G.I Love that place.
Susan Joseph: Can't believe that building is still up, that was my spot to hang out
Patricia Harry: Capoun Harry and Allex Murray, You gonna have to find a new cook out spot
Phyllis DaSilva:That is no cook out spot,it's covered with Bush n tree growing inside.This house can collapse any time.Its a hazard to our property, I have to pay people to clean my border so many times, that place looks ridiculous
Leslie Pitt: Terry we used to go to this house back in our schools days to drink coconut water with Ron Ryan me you Kenny Trevor and the late Joe hult I think this place is owned by the Ryan family.
Francis Clouden: A Chili Landmark
The Town's main attraction
This building is no longer standing but what great memories it holds for many of us. "The Theater or Matinee house" as we called it was the focal point in Georgetown, come week ends. 10 cents would get in the pit, cant remember how much for the stalls but I think 25 cents was for the Balcony.
Ticket sales personnel that springs to mind were Mack Charles and Cardan. (not sure if I spelt it correctly)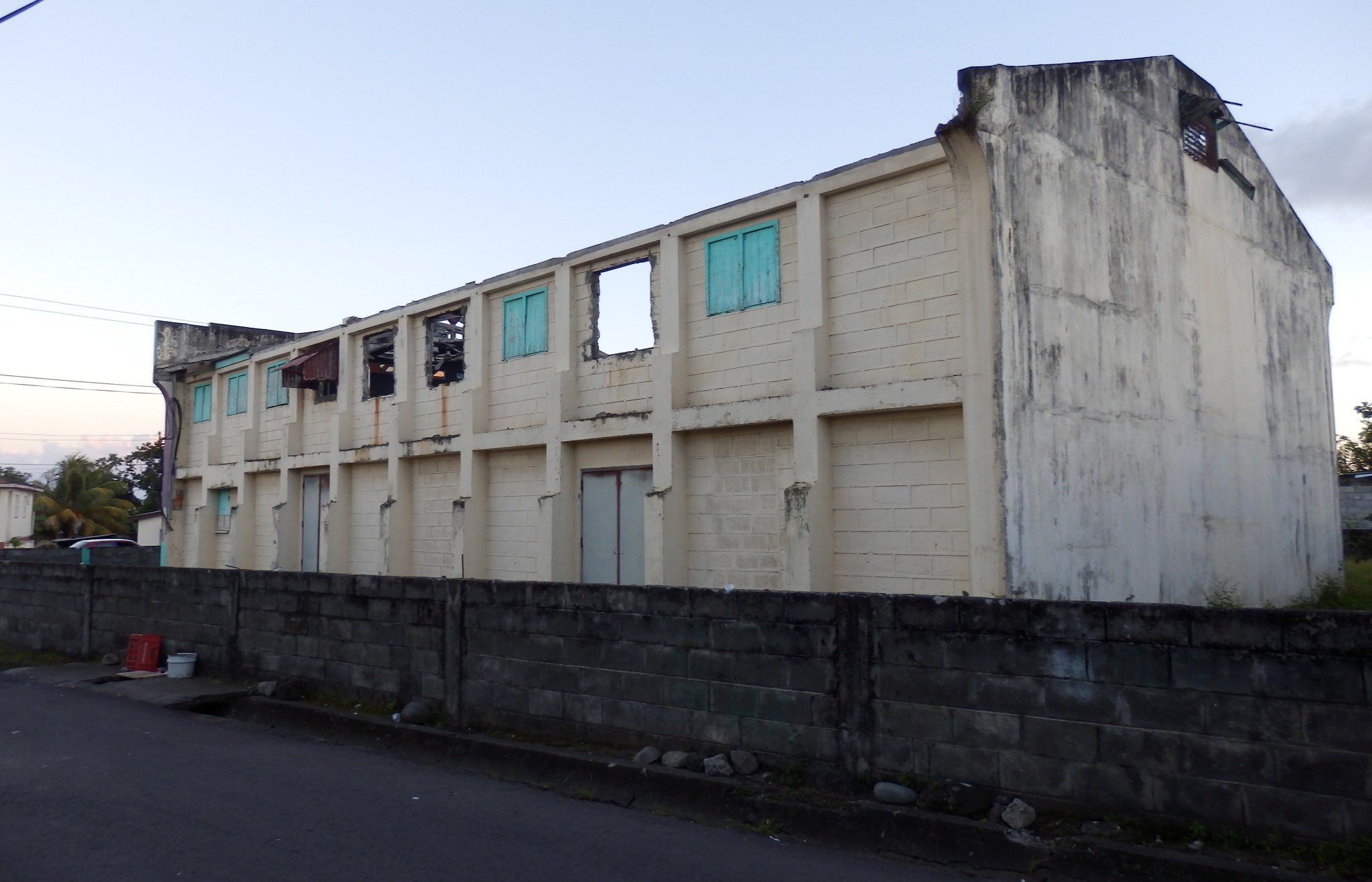 Allison Toney: Big boy.... Vino used to work there too and Jumbie Cutlass
Allison Toney: Some good movies !!!oh la la I had my special seat in front of Carlos. And you dare not sit in Carlos seat that was reserved. He went every night
Shirley Kirby: I saw "The Harder They Come" at that theatre when I visited family when I was a child.
Georgetown, SVG Revisited: Was that around 1973? That was when I first saw it there also.
Noel McBarnett: House was 15cts
Evelyn O'neal Abbott: Nice memories, I went to a Talent show there Miss Veneta Richard a school teacher then had perform magnificently..
Diana C. Manners: Is this on Back Street, near the school and across from the Pompeys? This brick fence I don't recognize.
Georgetown, SVG Revisited:The wall was added later.
Gette Nanton: Nice ..there's lots of memories. .Thanks for sharing. Great Job
Clara Campbell: Remember going Sunday School then going matinee after.....then theater as an adult.
Kaleen Clouden:Yep those were the good old days,my aunt sold tickets there once.
Annette Burke: We watch Princess Margaret wedding to Lord Snowden for free
Maryjo Bernard: Awesome memories.
Leslie Pitt: I spent many of Sunday afternoon in that place
Joann Do Silva Baksh: My dad Ken Da Silva told me about this place.
Andy Smith: Went there many times in the early 70s
Collins Garfield Collins: Ii have so much memory of this place.
Susanne Huggins: Lots of good memories
Burton Dasilva: Yes I went dey many times
The Georgetown library as some of you might remember it
Georgetown public library existed in 1910 but was re established in 1951, under the control of the Georgetown Town Board. It was a one room facility attached to the meat market. It was a subscription only library and only those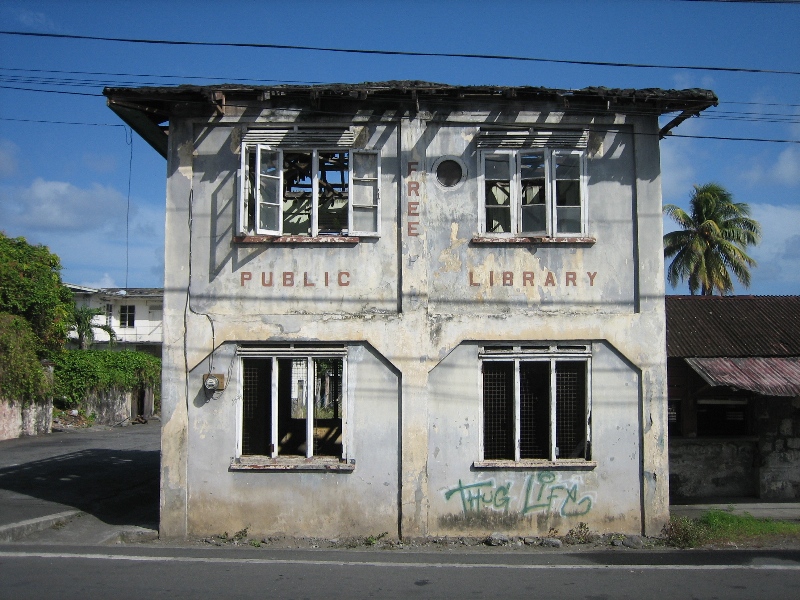 who could afford the 50 cents per month for books used it. The early librarians included Louise Prescod, Naomi Clarke, Florence Williams, Cecilly Hall and Ms Liverpool. It later became a Free Public Library.
Adapted from the book by Edgar Adams "The Carib Country Sugar Estates and Georgetown"
Roxann Grittiths Edghill: I read almost every book in that place over the summers. I hear it MO longer exists. They need to rebuild it.
Cheryl Browne Codrington: I have used that library so many times, when I was growing up.
Gasnol Hepburn: I spent many evenings looking books at that library, and never find one. However I enjoyed going there.
Leon Charles: I would have like see a photo before it's abandoned
Gette Nanton: Nice piece. .Thanks for sharing
Janette Samuel: I remember those after school day at the library. Those were the good old days
Janette Samuel: Why did they abandon the building
Frankie Crozier: Thank you Cailie
Verlyn Baptiste: That Library has served so many generations.
Susanne Huggins: Lots of history and memories
Moses Davis Samantha Washington: We went here a lot...
Hyacinth Clarke: I remember this place so well....
Hurricane Season
The Hurricane season was not a pleasant time for adults, but great fun for us kids. History has shown how damaging they can be, particularly the 1898 hurricane which virtually almost destroyed many parts of the island. During the hurricane season when I was a boy, it rained all the time and on many occasions schools were closed for long periods therefore much of the time was spent locked up indoors. We had no form of entertainment to keep us cheerful so most of the time we would "Go lay down") as we would say.
When it was a bad season the rivers would "come down" bringing with it mud and big rocks and sometimes anyone caught up trying to cross it. The sea riled by the high winds, took on a different face. It became angry and it swells rises to well over Forty feet high. The waves were so powerful that the water reached and covered the Georgetown, playing field. Many homes near the sea front in Browns Town, were always at risk.
High winds rattled all the board houses, galvanise were ripped from roofs and sent flying into the air and shingles from the sides of houses were displaced. We were always warned never to venture outside during the hurricane season, especially if there were high winds. For this reason many people living in board houses took refuge with friends and neighbours who had wall houses. We always went next door to stay with Darkie Smith, until the storm was over.
However, as a precaution, we were always told to lie flat and hold on to a bush we referred to as "Grass Root" if we were ever caught outside under these conditions. This was apparently one plant that could not be uprooted by strong winds so by holding on to this, you are going nowhere.
The banana fields were always flattened during the hurricane season. Sony Child the overseer for the Georgetown plantations was never a happy man when this happened and was usually seen pointing his rifle to the skies. Electric poles would sometimes come crashing to the ground throwing live wires in all direction. Another reason to stay indoors.
The place was a right mess at the end of the hurricane season. Substantial repairs had to be carried out to many homes but the spirit of the people saw to it that this was done quickly and before you knew it, it things were back to normal until the next time.
Here are some recollections of Hurricane season
Rhonda Henry: Remember when hurricanes use to be fun. No school, rain on the galvanize, wind blowing, river come down. Tri tri. It's dark we all in the house no light. Telling stories. Yesssssss going under the bed with not a care in the world. "
Judy Defreitas: Yes Rhonda, then after the storm passed, we going about the village to see the damage done and then down to the beach to collect whatever the rivers brought down.

Rhonda Henry: Oh that part I forgot. Yes!
Chanie LadyBug Sunday: That's how I got cut from a coconut branch.
Pat Bynoe Bowen: True true. The best part was no school
Charlen Cupid: And we could not wait for daylight to see the devastation. We didn't take it seriously.
Candice Pereira: Going to pick up the fruits that got blown off the trees, And everyone cooking some kind of boileen for the weather
Marilyn Stephens Cox: I remember those days very well. Many of us were very young and were protected by our elders but now it's the other way around, we are the ones who have to protect our own family ( wife, husband, children)....etc, and believe me, it seems a lot scarier now than in years gone by, but God knows best. Let us trust Him in every situation.
Rhonda Henry: So True Marilyn out parents were worried for us and now we are for our kids.
Carol Jackson: Those days are gone. OMG, Judy you are so right, it was a feast after the storm. But, now, we can say hurricane bad like 'YAWS'
Childhood chores
How many of you had to fetch firewood for your mother/grandmother? I certainly did, it was one off my chores as well as sweep the yard and fetch water from stand pipe. Some of you younger generation might wonder what a stand pipe is, well it was a road side water pipe for those who didn't have running water in their homes.
Your FB recollection of childhood chores.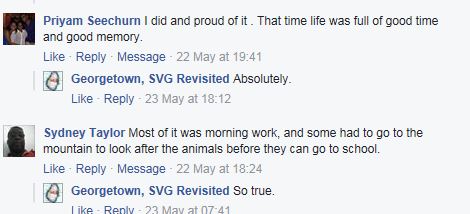 Dennis Abbott: Stand pipe was great , we use to bath under them . A very popular stand pipe was the one at grieve land ,just by the entrance road between Dennis Sutherland & old bishops college going down to the beach .After coming from the beach as a child we push each other away to get under the pipe water. Also another one at Glasgow not to far from us & our parents making sure we wash our face & hands b4 bedtime ,even though they meant feet. After doing that we then wash our slippers call gunslinger & put them on . Also I could very well remembered my sisters would normally creep into our room & peep on our feet to make sure they are clean, becoz they are the ones washing the bed sheets ect . Good reasons for loving my sisters .(Stand pipe was great ) & most essential in our communities. Good old days.
Gloria Shakespeare: Thank you Damien for posting,I only just commented on a post with a older Jamaican wearing one of our Cultural dresses,so,so beautiful.I made same comments about the progress from those days when there was the the first stand pipe with water ,the first time we got electricity,telephone,a community center,a post office etc.Talk about the first time someone from the Village got into High School. The younger folks need to appreciate what we have in all the Islands and work to build on what they inherited.I was hard work and dedication by Community Leaders,many of them barely finished Elementary School,but with Love and hard work.

Deborah Nedd: I thank you Lord. Gone are those days. I will forever thank God for those good old days, it gave me such a satisfying and contending mind. Thanks to the good old days.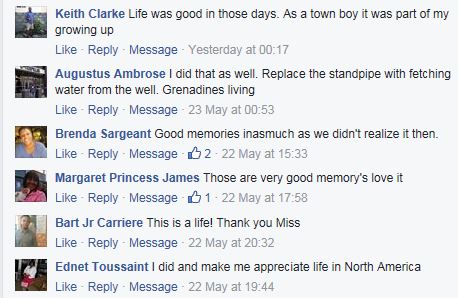 Bernedette Joseph: Yep! With no regrets. Plus the food from cooking on this wood was so good!
Dana Collins: We all forget sometimes you have go and bye bread early before the bread done.
Gette Nanton: This is great Calvin Terry Gooding..Thanks for sharing
Vincy Gal:l Love this post Claire.
Stephen Simmons: Wow back in the days
Kerry Black: Live that tru tru