Grand Sable Estate
Grand Sable was once the main residence of the Caribs.
I have always been fascinated about Grand Sable Estate. My earliest memory of Grand Sable, or Mt Young as we called it then, was in the mid 60s. In fact, Mt Young was known as Chester Cottage. An old estate building was located on the far side of the river. The work carried out there in my pre teen days was the husking of dried coconuts to abstract the nut which was dried and then turned into coconut oil. My Great Gran Mama Nenen used to send us to collect the husk to use as fire wood. The care taker at that time was a man called Mr Alleyne, he only had one good eye and use to wear a round shaped tin hat. I believe he was Barbadian. I was later to discover that Grand Sable was also a village that housed many families and I wanted to find out more.
After the dispossession of the Caribs territory many high ranking British were allocated vast amount of lands. An American Royalist from Georgia, Colonel Thomas Browne, was granted 6,000 acres stretching from Byera River in the south to Cayo River in the north, including the area of seven large, recently established estates, namely Tourama, Orange Hill, Waterloo, Lot 14, Rabacca, Langley Park, and Mt. Bentinck. The land was awarded to him by his friend and Governor at the time Charles Brisbane.
The local planters protested and it was later proved that this huge amount of prime land was acquired though false documentation. Browne was tried and found guilty and imprisoned. However he was allowed to keep Grand Sable Estate, 1,600 acres, the largest single estate in St.Vincent.on which he finally lived until his death at Grand Sable Plantation, in 1825.
The estate was passed on to his son Thomas Alexander M Browne. Thomas had Five children however the first Two are the main relevance of this topic. (Thomas A Browne and George McIntosh Browne) There were so many Brownes associated with Grand Sable so it is quite easy to get confused, considering that most of their names were passed down from the previous generation.
After the death of his first wife in 1824, Thomas A M Browne remarried and moved to St Vincent where he took over his father's estate. He managed to purchase land that was reserved for Governor Brisbane but a destructive hurricane in 1831 left him with huge debts. He died in 1839. A memorial was installed in the Georgetown church in his memory.
His son Thomas A Browne also a Reverend, inherited his father's debts and was forced to sell off most of Grand Sable in 1846 to pay for these debts. He later returned to England, to become yet another absentee owner. George McIntosh Browne the second son of Reverend Thomas Browne becomes overseer of Grand Sable Estate, David Cowie in 1872 (of Argyle Estate) becomes manager. . George McIntosh Browne married Jean McLeod in Georgetown, they lived in London for a while then returned to St Vincent, where he owned 60 acres of Grand Sable. 1,484 acres or thereabouts, was sold by Auction on the 6th of November 1872 in London. With such a huge monopoly in the town by the Browne family it is no wonder that it is often referred to as BROWNES TOWN.
It begs the question, what was the real purpose of the church in those days? Since almost all of the so called Reverends owned estates and were therefore slave owners. This is a claim by Rev Thomas Alexander Browne for losses on his estate.

The Balcombe Link To Grand Sable
These group of estate on the eastern side of the island had a fascinating history. The process by which they came into the ownership of a Vincentian self-made land baron of Carib decent is in its self worthy of a study. Basil Balcombe, over the decades of the Nineteen Fifties and Sixties had managed to secure ownership of Fancy, Mt Bentinct, Langley Park, Grand Sable, Colonarie and Sans Souci estates. By 1970 however, the strain of managing his empire was proving too much for him. He also seemed to have accepted that the possibility of retention of ownership and control of the eststes within his family after his death seemed remote. The market for plantation crops had turned and the financial viability of plantation agriculture had declined.
Balcombe arranged to incorporate his assets in the agricultural sector into a limited company (BIL) Ownership of his estates or plantation known as Mt Bentinct, Langley Park, Grand Sable, Colonaire and Sans Souci were vested in the company. The share capital of the company was quoted as EC $5.0 Million divided into 50,000 shares of $100.00 each. On Balcombe's death in 1976, the shares were distributed among members of his family.
However, by the end of the Seventies, the Government acquired 51% of the shares in BIL by cash purchase. By 1987, the Government held 82% of the shares and was working towards acquiring the final 18%. During my young days in St Vincent, the only Balcombe that I was familiar with was Lucky Balcombe.

The photo on the right below, is where the old Grand Sable factory used to be. This is now a day centre for the elderly and is often used to facilitate weddings.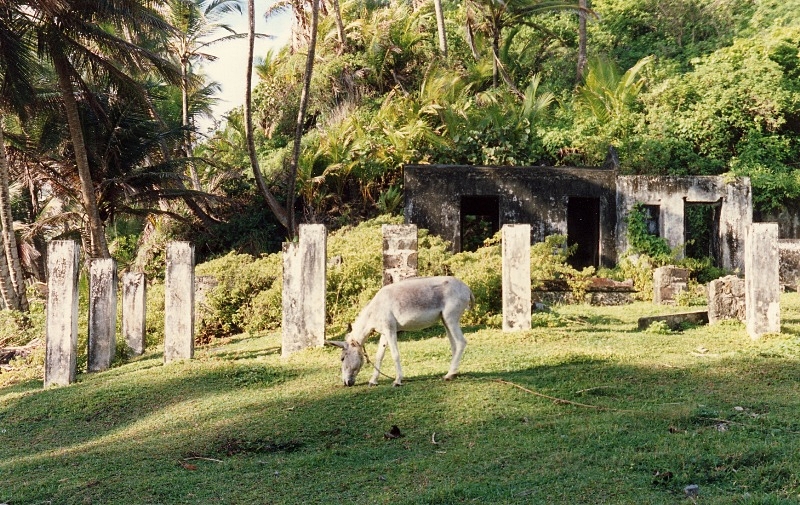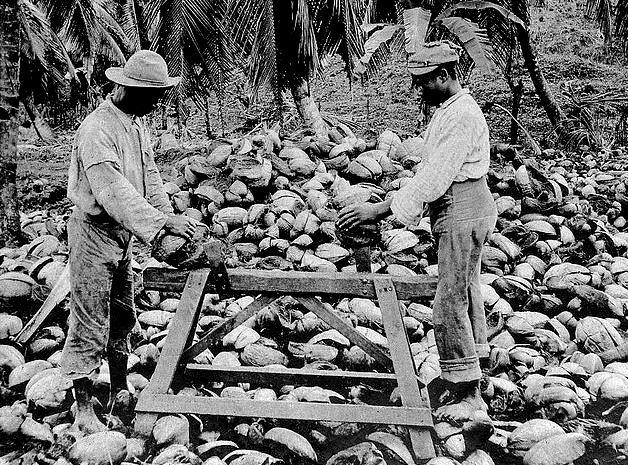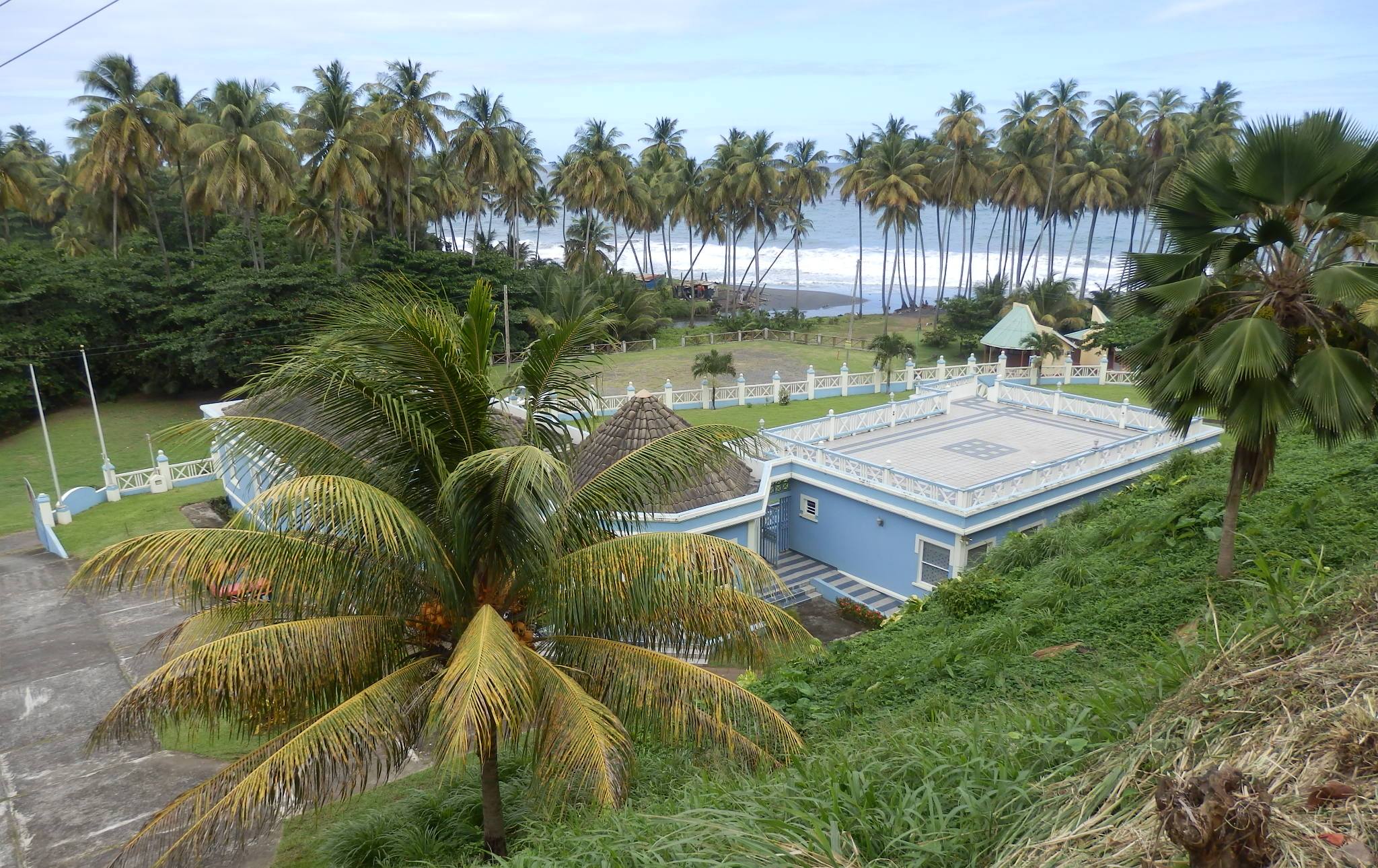 On Grand Sable Estate, labourers refused to work for 4 days after the 1st August 1843 because they wished to continue celebrating Emancipation Day. Two women were arrested and taken to Kingstown jail, they were later released and were triumphantly paraded around Grand Sable.
Plane Crashes At Grand Sable Estate
I can remember as a child my great grand mother Alice Sutton "Mama Nenen" telling us about an aeroplane that crashed amoung the coconut trees near to the Grand Sable Estate (Mount Young) well before I was born. She was apparently at the scene along with other locals and would tell us word for word what the wounded pilot had said as he lay on the ground dying.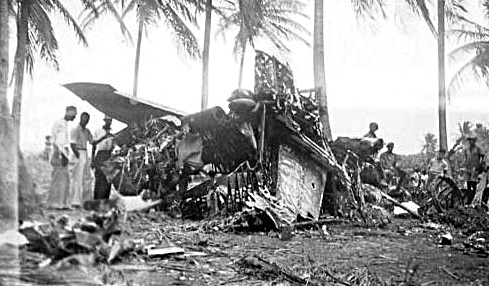 Twenty years after the crash there were still remnants of metal scattered in the area. It was a story that have always stuck in my memory. As if by faith I recently came across a photo of the crash. It was taken by Clare Paynter, the first female photographer in SVG.
According to the news report of the day, 17th April 1943, the World War Two plane hoovered around Georgetown before crashing amoung the coconut trees.